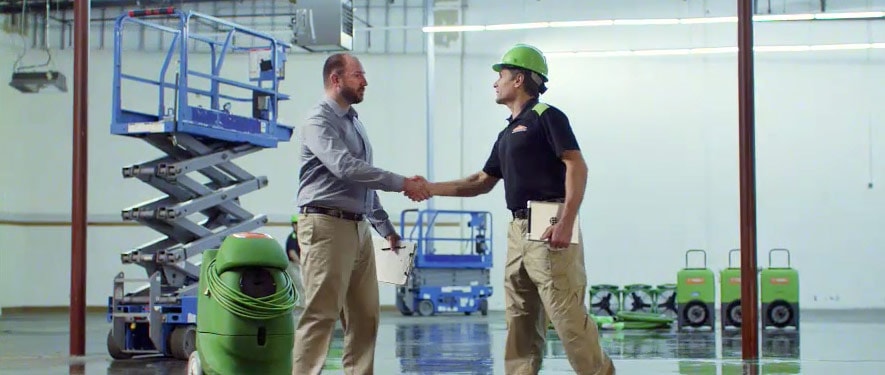 Commercial Services
We are acutely aware of the challenges that commercial property owners face when they have a disaster situation on their hands – no matter how big or small. Not only do they have to worry about the integrity of their own property, but they are responsible to their tenants and their tenants' customers. Timely and rapid restoration of fire, water and mold damage in a commercial property setting, gets business back up and running quickly, reducing loss of revenue and lowering potential liability.
With the knowledge and experience of the SERVPRO team behind us, our restoration experts are able to begin the process of restoring your commercial property to its previous state as soon as we get the call. Further, we assist with the appropriate documentation to help ensure that any insurance claim is complete and verifiable. How are team is trained and specializes in
Low- and High-Rise office buildings
Restaurants and food establishments
Hotels and motels
Small or large retail stores
Low and high rise residential buildings & apartments
Manufacturing or industrial buildings
Government and military
Available 24/7, our team is on call to handle a disaster whenever it should arise. And while we hope that you will never need us, SERVPRO of Bellmore / Wantagh will be there if you do.
Small Office Buildings
Large Office/High-Rise Office Buildings
Apartment Buildings
Restaurants
Hotel/Motels
Small Retail Stores
Large Retail/Big-Box Stores
High-Rise Residential
Manufacturing & Industrial
Government/Military
Have Questions? Call Today – (516) 809-9600
Commercial Building Restoration Services
We are available 24 hours a day to get your Bellmore business back up and running. Our expertise includes restoration services for fire and water damage, including electronics restoration and document drying. We are also your business's best resource for mold remediation. Learn more about our commercial restoration services:
Commercial Building Cleaning Services
Whether your need is removing an odor problem or deep-cleaning flooring or carpets, you can depend on SERVPRO of Bellmore / Wantagh to get the job done right the first time. We'll respond promptly and make your workspace look its very best. Learn more about our commercial cleaning services: